AVCL Home page
---

Accès

Documentation

Interfaces

Activités en cours
---
L'application AVCL (AdVances and CLaims) est un outil permettant la saisie et la gestion de l'ensemble des demandes de remboursements qu'un usager est susceptible de demander, soit:
les remboursements de frais de voyage,

les remboursements de frais scolaires,

les indemnités de congés dans les foyers,

les indemnités de subsistance,

les frais de candidature,

les indemnités d'installation,

les frais divers (achat de livres...).
L'outil traite également les avances personnelles liées à ces demandes de remboursement et les paiements à des tiers associés.

L'AVCL gère la circulation des demandes de remboursement entre les trois acteurs principaux : saisie par les secrétariats des divisions, vérification par les services du personnel et par la division des finances. Cet usage généralisé a pour but d'éviter une double saisie des informations: sur la feuille de remboursement par les divisions, et sur système informatique par les divisions du personnel et des finances. Cet outil ne remplace pas les documents officiels (formulaires) en vigueur, mais ceux-ci sont générés à partir des données saisies dans le système.

L'application est basée sur une base de données ORACLE et est étroitement liée à l'application de gestion des ressources humaines (ORACLE HR ).

Elle a été complètement developpée au CERN en utilisant l'outil de developpement SQL*Forms V3.0 par P.Golstein and Olivier Martin.
Accès
Actuellement AVCL est utilisee par toutes les division du CERN, soit environ 150 utilisateurs .

Toute demande d'information, d'aide, de nouveau compte se fait en contactant AIS Support.
Interfaces
Interaction entre les différentes applications :
Chaines de paiement :
Chaine salaire : HR->GIP->PECT-ORIAC
Chaine "claims" : AVCL->PECT->ORIAC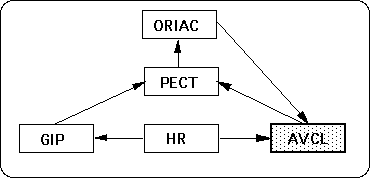 Liste des applications auxquelles AVCL est connectée :
ORACLE HR

permet de saisir toutes les informations sur une personne et sa famille, depuis son entrée au CERN jusqu'à éventuellement sa retraite.

Dans ORIAC se trouvent toutes les informations concernant les tiers ainsi que les données comptables (intersections, comptes comptables),

PECT (Personal Expenses Consolidation Toolbox) contient le détail des paiements effectués pour des personnes (paye et claims). Cet outil sert d'outil statistique de référence. Entre autres choses, PECT envoie les données comptables à ORIAC.

GIP gère le paiement des salaires. GIP prend l'information à partir des dossiers des employés dans HR.
La liste des formations externes (qui donnent lieu à une demande de remboursement des frais de voyage) est reprise à partir de l'application CTA.

AVCL gère la saisie et l'archivage des claims. Les dossiers des personnes sont consultables mais non modifiables dans AVCL.

La liste des claims en cours de paiement, ainsi que les dépenses d'indemnité de subsistance à venir sont consultables dans les outils HRT et BHT ("AVCL pipeline"). Cette fonctionnalité permets aux responsables de comptes budgétaires de disposer d'une estimation fiable des sommes engagées sur leurs comptes.
Activités en cours
L'application a été modifiée pour l'implémentation de la nouvelle structure des carrières.

Portage de l'application pour la nouvelle version d'ORACLE*HR (11i). Cette modification technique ne devrait pas occasionner de changement pour l'utilisateur.

A moyen terme, une version accessible à partir du WEB sera développée par l'equipe EDH.

Un groupe de travail a été créé pour définir les besoins concernant le remboursement des voyages officiels (qui sera le premier document supporté par EDH)